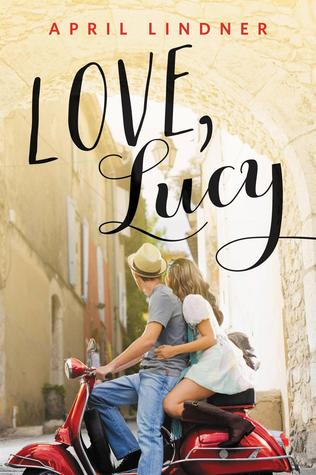 Title : Love, Lucy
Author : April Lindner
Genre : YA contemporary
Publisher : Poppy
Release Date : January 27th, 2015
Book Links :
Goodreads
|
Amazon
|
Barnes and Noble
|
Book Depository
|
iTunes
Summary :
While backpacking through Florence, Italy, during the summer before she heads off to college, Lucy Sommersworth finds herself falling in love with the culture, the architecture, the food...and Jesse Palladino, a handsome street musician. After a whirlwind romance, Lucy returns home, determined to move on from her "vacation flirtation." But just because summer is over doesn't mean Lucy and Jesse are over, too.
In this coming-of-age romance, April Lindner perfectly captures the highs and lows of a summer love that might just be meant to last beyond the season.
*I receive the book through Netgalley in exchange of honest opinion.
I actually didn't read many retelling, so Love, Lucy is the second retelling book that I read, and I'm glad I did. One of the reasons I love this book is the setting. I love travelling, but since I'm still in school, I don't have much time to travel, that's why I like a book that has a travelling aspect in it. The other reason is--of course--the romance. Seriously, who doesn't want to read a romance in Italy?
Our MC--Lucy Sommersworth--is a likeable character. She's pretty shy, and compared to her travel partner--Charlene Barr--she's the rational one. She went backpacking to Europe in exchange of majoring in business instead of drama--her true passion. When she and Charlene reached Florence, Italy, they met Jesse and Nello. I ship Jesse and Lucy the moment they met! They're just so cute and adorable and perfect together. I love how they can complete and relate with each other almost immediately. He's also the one who accompany Lucy travelling in Florence and Rome when she and Charlene are arguing. Weren't that romantic?
One thing that I found kinda different with the other YA contemporary is the writing style. Lindner use third pov and many figurative languages in this book. It was hard to adjust with the writing style at first, since I rarely read classic books, but when I finally can adjust, it's beautiful. It made me feel like I'm reading something classic. In addition to that, there's many 'classic' places mentioned in this book, such as Spanish Steps, Colosseum, and Trevi Fountain. That really makes me want to bought a plane ticket and go to Italy immediately.
Anyway, if you love to read and travel, this book is for you! If you have read A Room with a View by E. M. Forster and love it, then this is for you too, since it's basically has the same plot. You won't be disappointed!
Favorite Quotes

"When a person really loves something...or someone.."
"Yes?"
"You just have to stand back and let them"
"He sees how we feel about each other"
"But I couldn't go," he concluded. "I had to stay until opening night, even if I was just some guy in the back row. Even if I had to see you with your boyfriend afterward. I had to be here, even if it hurt"
About The Author
April Lindner is the author of three novels: Catherine, a modernization of Wuthering Heights; Jane, an update of Jane Eyre; and Love, Lucy, due out in January, 2015. She also has published two poetry collections, Skin and This Bed Our Bodies Shaped. She plays acoustic guitar badly, sees more rock concerts than she'd care to admit, travels whenever she can, cooks Italian food, and lavishes attention on her pets—two Labrador retriever mixes and two excitable guinea pigs. A professor of English at Saint Joseph's University, April lives in Pennsylvania with her husband and two sons.
Connect with April :
Giveaway
a Rafflecopter giveaway